From washing paintbrushes to yogurt lids, find out more about the creative process behind SVC Winner Akiko Nakayama's 'Alive Paintings'.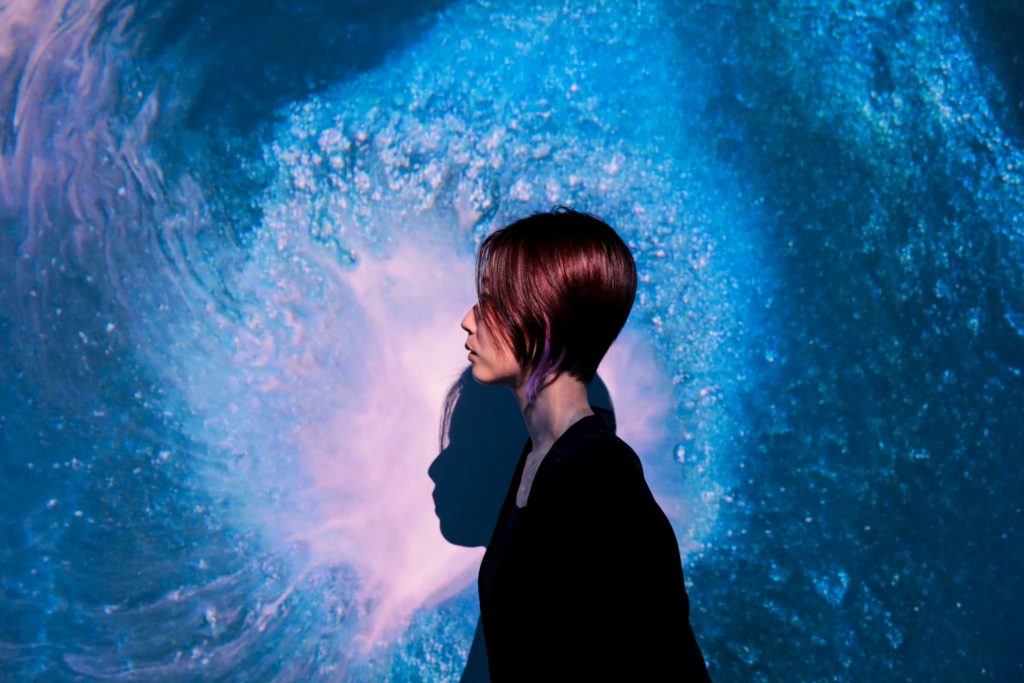 Akiko Nakayama (b. 1988) is a formidable visual artist born and based in Japan. Known today for her 'Alive Painting' performances which have mesmerised audiences from Montreal to German and her native Japan, Akiko plays with colour and movement to create vivid and contemplative pieces which allow the viewer to enter a contemplative state and reflect on the simple beauties of the world we live in. While colours in paint can be purchased easily and at affordable prices today, they have historically had deeper meaning in what they represent – economically and spiritually. Akiko's work clearly reflects a fascination with the wonders of the world of colour, which she has managed to associate with the likes of movement and music to create unique live experiences which bring visual art back to its historical core: paint.
Akiko performed in the live online final of the System11 VJing Competition in December 2020 to Pyralidae by Hangora (coming out on the STM11 label in 2021), a performance for which she received First Prize. Starting off with a black & white filter to set the mood of Hangora's rhythmic, impactful yet dreamy track, allowing the viewer to experience the music's mysterious tone with dark contrasts and surreal flows before the filter is removed and a scarlet red is splashed across the screen, marking an entrance to Akiko's colourful realm. This exquisite performance made us want to know more about the artist and the creative process beyond the camera frame.
When did you start painting / making art? How did you come round to starting your project of 'Alive Paintings' and live performances?
I remember cutting out ads and collaging them to make my original newspaper 'Akiko TIMES', and drawing many things, especially plants. According to my family, I was drawing with red crayons on tatami mats when I was two years old. For my parents, this was considered only an incident…
Later when I was in art school, I started doing live painting. In the beginning, I used to paint big pictures with a long stick, like the modern French painter Henri Matisse. I then formed a unit with a classmate dancer and a DJ to act as the 'glue' between music and dance. I learnt to use visual art as a way of communicating and expressing outside of language. By using live painting based on the impressions of sound, I could let the movement of liquid become a dance, an energy flow. Sound and dance are also arts of time, and so I started using cameras and projectors for a more immediate response.
Can you tell us more about the use of colour and movement in your Alive Paintings and what they mean to you?
In the days when paints were made from natural materials, the meanings associated with the colours varied depending on the scarcity of the materials. For example, it is said that the colour purple produced by the secretions of shellfish used to have the same value as gold nuggets, and itself was symbolic of nobility.
Nowadays, technologies have been developed to make colours chemically, and any colour can be accessed and used. I like to think about the historical background of colour materials, but also think about the psychological effect of colours such as red and and blue, and how they function metaphorically – whether the same blue is the sky or the sea as seen in the national flag.
In my Alive Paintings, the colours are mixed while taking into consideration the characteristics of the colours one by one. It is one of the best parts of abstract painting.
What/Who are your main sources of inspiration?
I'm fascinated by the materials themselves, such as paints and water, so I draw inspiration from the tools I use to paint, which makes me create more work and continue in an infinite loop! I remember when I was little, I was impressed by the colours running down the sink when I washed my paintbrush.
These days, I am interested in Mud pots. Last year, I made a high-speed video of a natural phenomenon of boiling mud in Oita prefecture (Japan), where a beautiful shape appears every second. Depending on the temperature, it changes from being active or resting, it's a natural dancer. There are also mud pots in Hokkaido, Iceland, and Yellowstone National Park, each with a different personality. I'm really fascinated by the natural phenomena and movement associated with liquid, be it in a national park or in my own kitchen.
Can you explain your actual live process? For example, what gear and materials and types of inks/paints did you use for the SVC?
SVC was as short as 7 minutes, so it was the simplest structure. The visual performance was recorded in real-time and delivered as it was. I didn't use a video mixer and VJ software, but I used the camera's built-in effects. There is a high contrast black & white mode in the camera, and I turned it on to draw colourful paints. When I turned it off, the colour appeared suddenly, creating a dramatic effect. I wanted to create a big change with the colours in the final.
As the judges mentioned, I've been addicted to transparent layers these days, and I enjoy stacking glass plates and sliding air bubbles between them, and refracting images with gel polymer beads. Inks and paints are the main members, but I often use shampoo when I'm travelling, or anything I can find. For example, the back of yogurt lids these days is often water repellent, which is very interesting to use in paintings.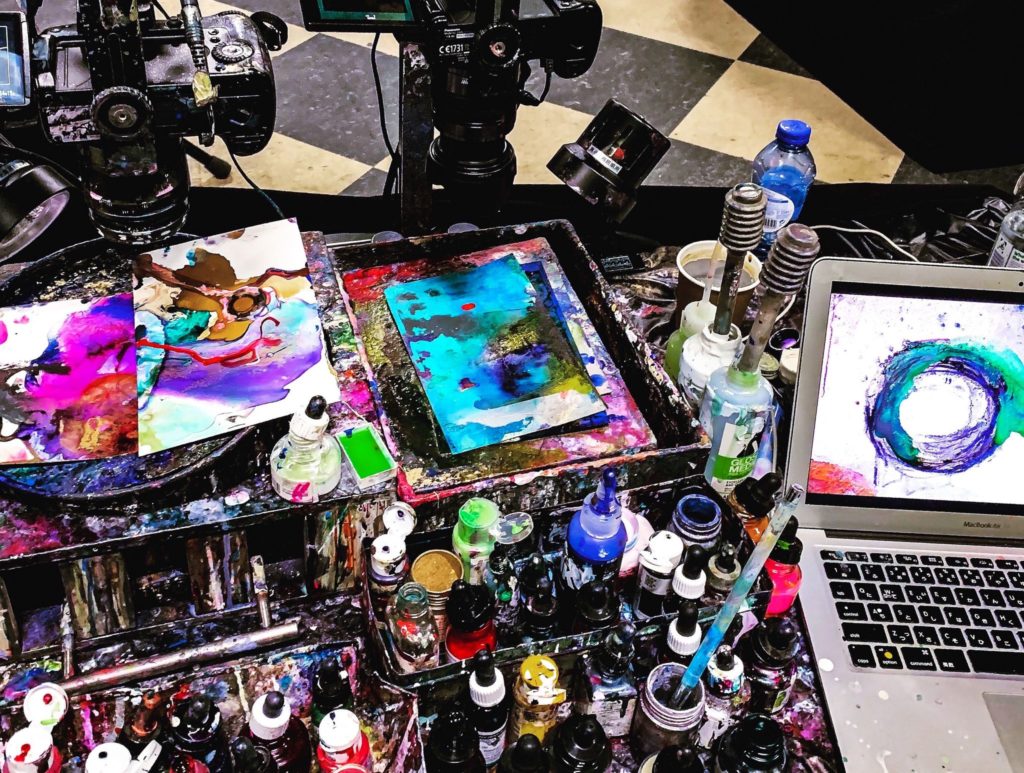 After winning the SVC, you took part in the Fotonica Festival. Can you tell us a bit more about this experience?
The Fotonica festival was a surprise gift for me and was a great opportunity after the SVC. After all, I love live performances. For both performances, I had fun even in the online sound checks and rehearsals. There's noise in the online voice, which I felt was proof that I was traveling halfway across the globe.
I am also excited about these new ways of meeting people and working with them for the first time. Even if it's a conversation that says, « No video and sound signals come!". In Fotonica's one-hour live performance, I was very relaxed in my drawing and discovered new ways of expression.
Your performances are typically accompanied by atmospheric and somewhat experimental music, which sets a very calm and contemplative ambiance. Do you enjoy performing to live music? Can you tell us how performing with live music differs from your usual performances? Is there a musical artist you dream of performing with/to?
Of course, I like it a lot! In live performances, the action of the musician also greatly affects the impression of the stage. When I performed with the Bruckner Orchestra, I also watched the conductor's movements closely, so that my work breathed together with his. Then all the parts, not the individuals, will be united in a dynamic meditation state. During the SVC, I also really enjoyed Hangora's track. It was more like an adventure than a meditation. I need both experiences.
Recently, I've been listening to the radio of African electro and Indian percussion online, which I find very fun. It feels like dancing, and I'm sure the ink flows will start dancing themselves if I perform to it. You can listen to an example here.
You have performed all over the world, can you tell us which was your favourite performance and why?
I have good memories of all my performances, but I will pick up the ones that have videos. The solo performance at the LAB 30 Festival in Augsburg, Germany is still impressive in my mind. I used a video mixer to create my 'Alive painting', where I mixed my own photographs with live paint … and the Bass was shaking the camera I was using to shoot the work!
System11 focuses on both audio and visual culture, and how it comes together. Is there a particular audio and/or visual event or experience which you attended at some point in your life that has stood out to you (festival, exhibition, concert, or even a music video)?
The online session with Tavito Nanao, a Japanese singer-songwriter was intriguing. He was in his house but his guitar and voice vibrations sent to the visual team studio. I felt inspired at home, so I changed the balance between the left and right of the speaker, and made a soft canvas with a thin balloon on it which I filled with water. Using the method called cymatics, I was able to create a pattern with the vibrations of sound. This encounter between audio and visual in the midst of a pandemic where people can't meet made me feel as if the vocal cords of a musician were actually here, as if the sounds and pictures were touching… I could feel the possibility.
Another experience which made an impression on me was the festival was MUTEK Montreal. In addition to nighttime A / V performances, experts from other fields such as archaeologists, activists, and philosophers held workshops in the morning and noon. It was great to have a space where different fields could get together and mutually inspire and influence each other; I would like it if Tokyo could do something like this.
And finally, just for fun, what fictional character do you identify with the most and why? 🙂
To be honest, this question is the most difficult! I have too many favourite characters… But in the human category, I would have to pick TINTIN by Hergé. In the monster category, it would be Milcery (Pokemon). I would choose them because they are always adventurous and so lovely.
Most recently, Akiko has produced an installation for the RICOH 3L creative and collaborative workspace in Tokyo. Her art is on display in their innovative Conference room called "Ricoh PRISM" which enhances the creative feelings of a team, helping it become more united and inspired. You can follow Akiko on Instagram, Facebook, or visit her website to learn more about her great projects.