Kirill Matveev: A Visionary for Electronic Music
Kirill Matveev has been providing the electronic music scene with authentic, emerging and quality releases for over two decades. His accrued knowledge and impeccable taste is reflected through our second podcast. Let it take you on a soothing, melodic and dreamy ballad as you discover the musical world of one of Russia's most driven and prolific artists and entrepreneurs. 
Early beginnings in Russia's electronic music scene
Music producer, DJ and label head Kirill Matveev (Saint Petersburg) has been active since the late 90s. Like many others, Matveev started playing at local parties and gigs while in school. Back then, he was determined to break into the "mysterious world" of electronic music and start releasing not only his own tracks, but those of other talented artists.
Matveev has hugely contributed to to Russia's electronic scene while evolving alongside it. In fact, his insatiable desire to discover and share music has grown into a variety of projects. Either established or emerging, his labels have now become trusted and reliable sources of Deep, Minimal, Dub Techno and House.
Marked by the music of his generation, his personal taste in music is imprinted by 80s and 90s rock. Hip hop, electronic reggae dub and alternative Russian rock bands like Tequilajazzz are genres he listens to regularly. His electronic influences also reflect the music of his time, including early Detroit and Berlin Techno such as Tresor Records, Basic Channel and Sven Vath. As a result, his diverse taste has made him notorious for "assembling musical journeys". Matveev can adapt to any moment in a night and guide his audience through every mood.
« The main point is the audience you are playing for, no matter if they see you on screen or dancing around in real life - they are always listening to the music. »
Building his music empire
As time went by, Matveev learnt the ins & outs of the industry. What initially started as a podcast series 10 years ago grew into a radio station and subsequently MixCult Records. (Mixcult was "named after the culture and cult of DJ mixing.")
With DJing always at the core of his endeavours, he uses that mindset when selecting music to release on his labels. His appreciation for different styles and sub-genres of electronic music has led him to open Spitzer Records. This second label has a sole focus on ambient music.
Mixcult's roster of artists is international, while remaining faithful to its Russian roots. Some may argue that "electronic music destroys borders," and the digital era we are in has liberated music from the concepts of identity and scene.
However, there are still advantages to putting forward locality in music. It allows us to celebrate underground culture and emerging artists with an avant-gardist vision, and emphasise the importance of community. It can create a unique and cohesive visual identity. For example, earlier podcast series from Mixcult were accompanied by vintage videos from Russia [see above], adding an undeniably Eastern European mood and mystery to the experience. 
« If I like a tune, then I take it for release and that's it. good music needs to be heard and released. »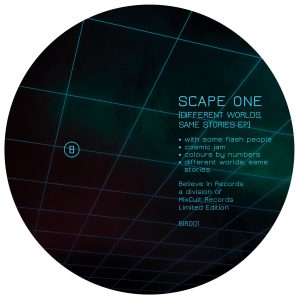 Renowned for his perfect balance of new and old school gems, Matveev has continued on his relentless hunt for new talent and audiences by opening two new sub-labels. Believe In Records launched in January 2021 "for those who love and believe in technology, Cosmos, UFO, and outer space adventures". Scape One (UK) was the first vinyl released on it and is almost sold out. He's been working simultaneously on Adlibitum Tum Tunes, another sub-label for house music lovers (April launch).
All things considered, it's clear that the world of electronic music is longer quite so mysterious to Matveev. He continues to work on collaborative projects and launch various sub-labels, while still delivering an  impeccable curation of deep and rhythmic techno. This also undoubtedly applies to the set he provided us for the second of our Melifera Podcast Series. Matveev used Caldera – Body 2002 as his key track and starting point, which which he built a story through a range of crisp textures and rhythms. Oscillating between light melodies and darker percussion, his set takes us on a soothing and hypnotic journey of seep sensations.
What is your current favourite track?
As a DJ I can say that this tune is really often in my DJ bag, I think I have loved it since it was released 4 years ago –  Ohm & Kvadrant – Yding. It just has a wonderful mood and perfect groove – nothing else to add. There are so much wonderful tracks around, you just need to dig it 5 days a week! 
Melifera Records focuses on audio-visual culture within electronic music. Do you have a specific audio and/or visual experience that is most memorable to you?
Which fictional character do you identify with the most?
Maybe Dr John H. Watson from Arthur Conan Doyle's Sherlock Holmes.
Kirill Matveev's various projects are a reliable source to find great new music. You can also follow his personal Soundcloud, Facebook and Instagram to discover his musical universe first hand.