Luce Rungette & The Visual Culture of Music
Art and music are more intrinsic than we think. Visual culture's significance to music culture is undeniable, and Melifera Records value this symbiotic relationship. We wanted to bring this to light by chatting to Luce Rungette, the graphic designer of the (cancelled) 2020 La Vallée Électrique poster. The talented artist is a fantastic example of how art, music and nature, our core values here at Melifera Records, can come together in a perfect melting pot.
How music and art come together
Music and visual art are two artistic realms which require different uses of our basic senses. Nevertheless, the crossovers and mutual appreciation are significant. Historically, many bands and musicians have emerged from art school, such as Pink Floyd, David Bowie, and Blur. British art schools were considered a "crucible of visually driven music, partly because of the freedom they gave budding musicians" (Eye Magazine). 
Visual culture is such an integral part of the music industry. Genres not only have their own sounds, but often aesthetic, colour palette and typography. An event produced within a specific genre will follow a distinct visual identity. This makes it easily identifiable and appealing to its audience. For example, an acid house event in the UK in the late 80s was likely to be accompanied by its "semi-official mascot", the smiley face (Vice).   
Album covers have become iconic visual signifiers for bands and musicians across genres: The Beatles' Abbey Road, Nirvana's Nevermind, Kraftwerk's Computer World and Justice's Cross. In addition, designers have built their career around their work for musicians. Most notably, Peter Saville, who created the album sleeves for Joy Divison, New Order and Roxy Music (to name a few).
Overlap in technical ability and artistic interest
There is an increasing overlap in technical knowledge and interest between music, video production and digital arts. A number of DJs and music producers are also artists, creating accompanying visuals through various means (digitally, photography, video, painting).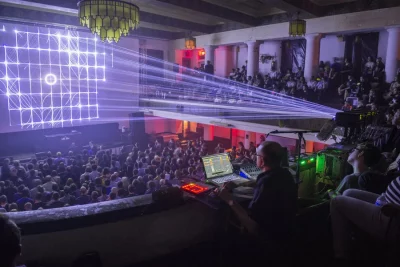 Robert Henke performing Lumière III
Robert Henke (aka Monolake), an early proponent of Berlin Techno and co-creator of Ableton software, has explored these blurred boundaries between music, sound art, visual performances. His background in engineering led him to explore computer generated sound, images and installations in a series of immersive audiovisual performances, Lumière.
Having now discussed as briefly as possible ways in which art and music historically come together, it's time to get to know the designer of our "timeless poster" for La Vallée Électrique (as the original event was cancelled in 2020).
Meet Luce, Graphic Designer, Illustrator, Animator
The 23 year old artist grew up in the Drôme Provençale and studied applied arts. She rained as a graphic designer, 2D animator and illustrator during her two years at the École Normale Supérieure des Arts Décoratifs in Paris. Taught by a local drawing teacher in Taulignan from a young age, she learnt the fundamentals of drawing and painting before expanding her practice to applied arts and graphic design. Exploring "art in everyday life", Luce began using a variety of representation tools to convey an idea or information in a specific context, combining aesthetics and functionality.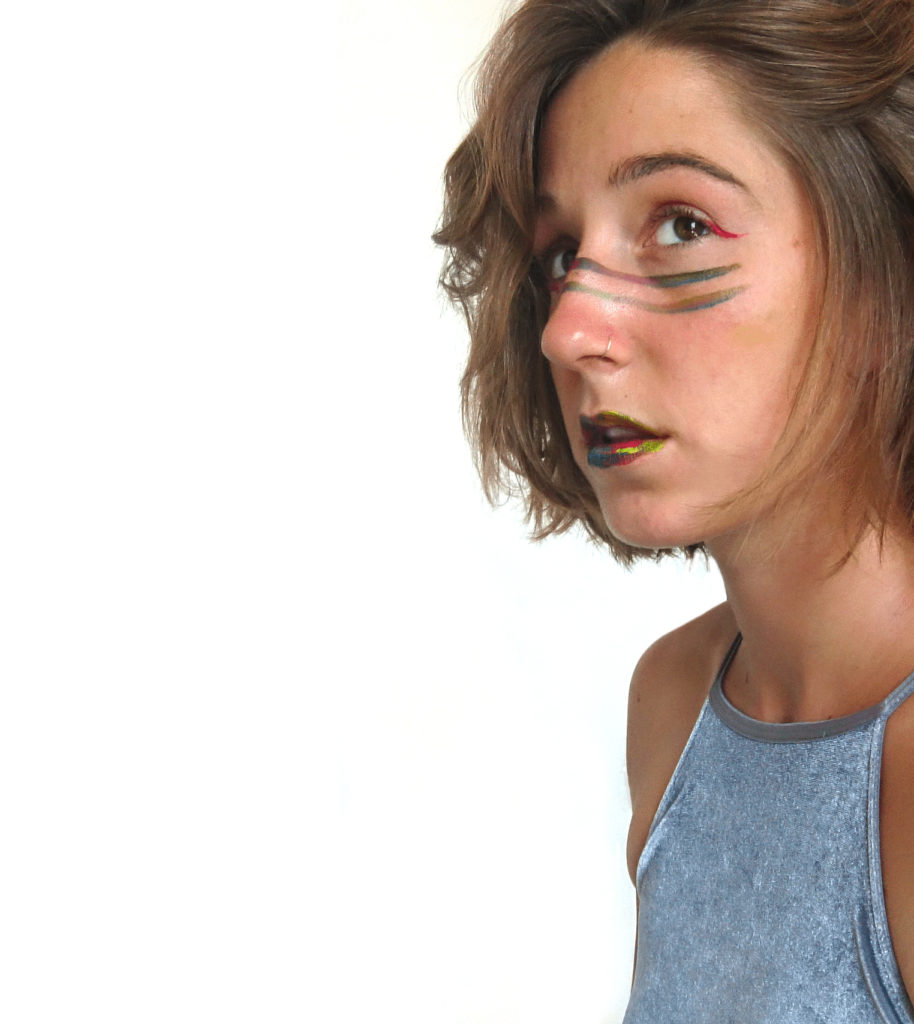 "The essence of design, I think, [is] combining the useful and the beautiful"
The beautiful Drôme, with its hills, rivers, and warm pastel lights have always been a primary source of inspiration for the young artist. Like many, she is inspired by nature, everyday life and the people close to her. Luce's work is infused with the colours and landscapes of the likes of Henri Matisse and Armenian painter Matiros Sarian, while her lines and characters take from famous illustration artist Sempé through their verisimilitude and honesty. 
Posters made by Luce for events in the South of France
For Luce, it is easy to transpose the imaginary onto reality in order to convey a message. Similarly, you can convey the philosophy and core values of a festival or event through visual cues, whether representative or abstract.
Music as inspiration for artists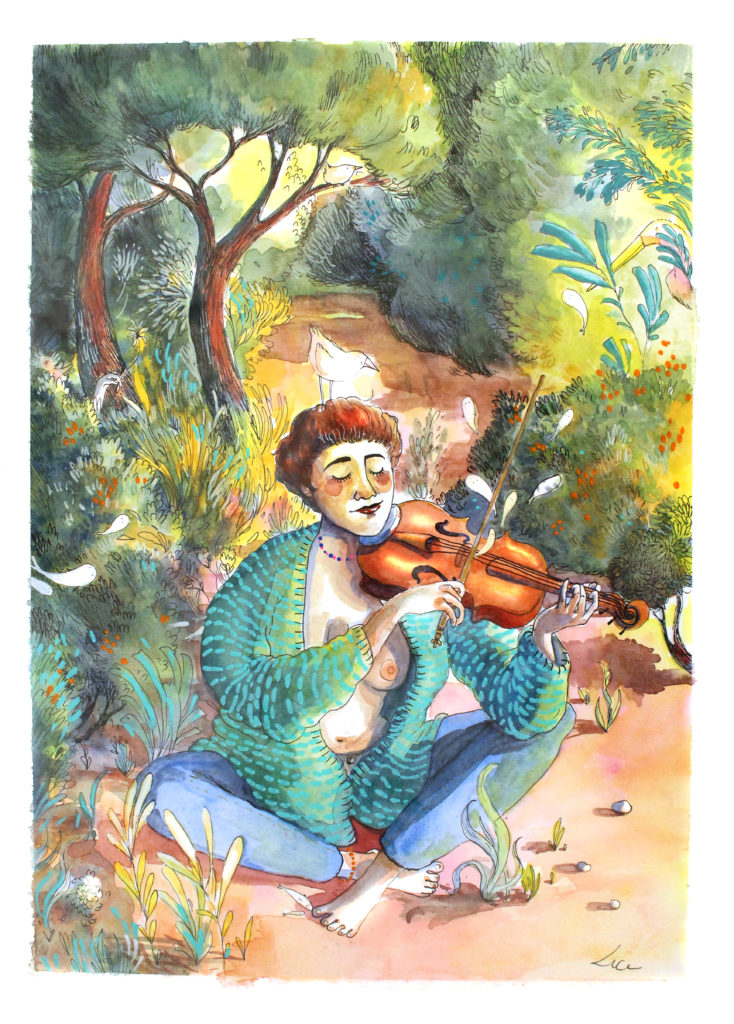 An audio experience can enter your creative process and ultimately affect the outcome of your art depending on the mood and atmosphere you set yourself in. Working with music allows a visual artist to "feed off the sounds, rhythms and moods that music provides". A notable example of this is 20th Century artist Wasilly Kandinsky whose paintings visually represented his experience of music.
"You can creating mesmerising dialogues between sound and image, it becomes a complimentary story by calling upon two of our senses simultaneously: hearing and seeing"
Luce describes how music is part of her daily inspiration. Images gives consistency to music, while music creates a mood for the image. Together, they tell a story, which is what Luce wanted to achieve when designing our poster:
"There are the hills and the immense Lance*, the plain that begins, and this lost valley that one would not suspect to exist. And then if you listen, if you look closer, you can hear the shaking bass and this strong and radical music, you can see lights rising through the branches of the trees. It's a real blessing for an artist to be able to represent this."
[Editor's note: the Lance is a mountain in the French Pre-Alps, very prominent in the South of the Drôme]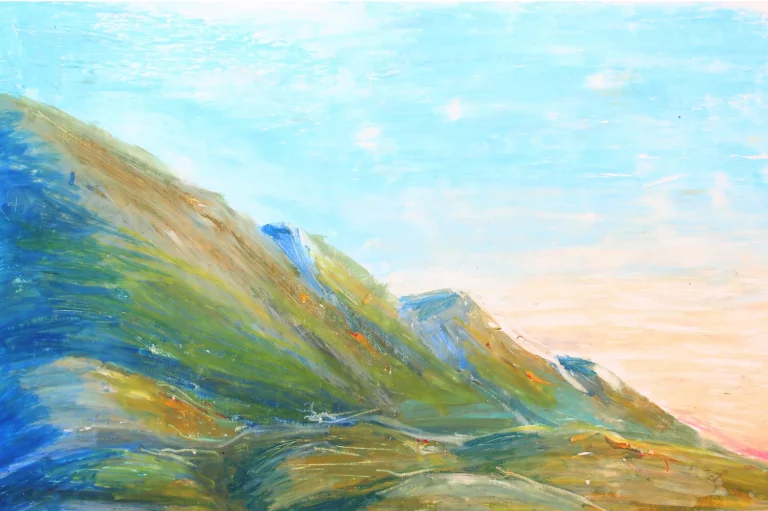 Finally, music videos are maybe the most obvious way in which music and imagery can come together in perfect synthesis. You can create mesmerising dialogues between sound and image, it becomes a complementary story by calling upon two of our senses simultaneously: hearing and sight. 
The scope for music videos is broad, going from "live" performance, short film and animation to many other tropes of film production. Alongside event posters and album covers, Luce also produced an animated music video for the group H20. Luce describes it as a "trying but crazy" experience which brought together music and image in unison, creating a wonderful symbiosis. 
This article is by no means an in-depth analysis on the visual culture of (electronic) music, but more a general musing on how art and music come together on so many different levels. We are fortunate to collaborate with inspired and inspiring musicians and artists who help define our artistic direction and make us who we are. It felt important to take a moment to look to appreciate this on a bigger scale.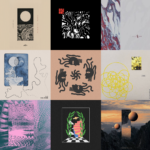 VISUAL • Graphic design plays such an important part in defining a label's visual identity....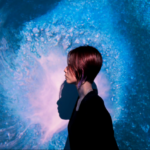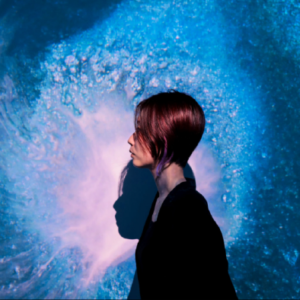 VIDEO • From washing paintbrushes to yogurt lids, find out more about the creative process...