Melifera's 2021 Cover Art Selection
There have been so many great releases throughout the year; 2021 and its complexities has not stopped artists, musicians and labels from being as prolific as ever. We wanted to bring your attention to the visual artists that contribute so much to the aesthetic and beauty of the world of deep and dub techno through their cover art.
Graphic design plays such an important part in defining a label's visual identity: each label does it their own way. Some call for outside painters, designers or photographers, while others have visual artists as part of their team. Nevertheless, despite the uniqueness of each label, we noticed certain themes emerging, with a strong focus on nature and abstraction, but also geometry, cosmic environments and patterns.
With this nothing-short-but eventful year coming to a close, we wanted to celebrate once more the beautiful symbiosis that can exist between art and music. So here is Melifera's selection of 21 favourite album covers of 2021!
Blazej Malinowski, Craft, Mary Yuzovskaya, Ruhig -Various Artists Vol. 4 [Monday Off]
Artwork: Liza Shutova
Monday Off is a vinyl-only record label founded by Mary Yuzovskaya (Berlin/Moscow). It showcases artists that explore techno's hypnotic, trippy and dynamic side. Each sleeve focuses on a single element from nature (an octopus, or in this case an anemone) and follows a specific purple/blue colour palette. The beautiful designs go so well together and encapsulate the nature-oriented ethos of deep techno.
Label: Soundcloud
Gege - Transcendental (ST039) [Secuencias Temporales]
Artwork: Jorge Eafhm
Secuencias Temporales is a multidisciplinary label, mainly curating ambient and downtempo music based in Mexico City. All covers are designed by label owner Jorge Eafhm, with a visual approach focusing on the textures of nature. For this EP, Jorge wanted something that would reflect in a visual way its energy and sound - something serious and elegant.
Label: Bandcamp
ACCENTVA006 - Various Artists 006 [Accents Records]
Artwork: Johan Bonnefoy
Accents Records is dedicated to underground techno, ambient, deep sounds, industrial and electronic experiments. This design is by label owner Johan Bonnefoy (aka Sub Accent), also a prolific visual artist, curator and music producer. He paints incredible landscapes usually in a more realistic style. The chosen digital touch here encapsulates the various styles of his label, going from lighter ambient to deeper techno.
Label: Soundcloud
Tiferet - Magnetic Mountain [Agos]
Artwork: Voislav Dimitrijevic
AGOS (A Garden Of Sound) is a deep & hypnotic techno label based in Singapore. This minimalist cover is a simple yet efficient rendition of a mountain. Keeping to a darker night-like colour scheme, its beauty can be found in its simple lines and soft primary palette. 
Label: Bandcamp
Foreign Material - Memories of Lumeria [NORITE]
Artwork: MA7R (Martin Respaut)
NORITE is an « esoteric techno » label based in Brussels, Belgium. This intricate cover looks like something between a medieval engraving and a dadaist photo-collage. The imagined landscape is filled with mystery, beauty and complexity, reflecting the depth and darkness of Norite releases.
Label: Soundcloud
Agyrs - Searching [Indefinite Pitch]
Artwork: Mark Wagner
Indefinite Pitch is mainly an electronica/ambient techno label and premiere channel based in Yantai, China. Reminiscent of Joy Division's iconic album cover this simple line-based black and white graphic brings nature into art in a minimalist and simplistic manner.
Label: Soundcloud
Adhémar - Smell Of Jasmines [Artscope]
Various Artists - Rhizome 04 [Lowless]
Artwork: Polygonia
Ambient and deep techno, minimal, dubby vibes, based in Paris, FR. Polygonia is the rising star of deep techno today. From epic releases to powerful podcasts, the audio-visual artists never stops producing impressive music and absolutely stunning artworks. Of all the visuals she has produced this year, this must be our favourite. So simple, yet impactful.
Label: Soundcloud
Forest on Stasys - Mantrum [Harmony Rec]
Artwork: Adam Soukup
Harmony Rec is a record label based in Prague since 2014. Passionately distributing vibration both on the dance-floor and on vinyl, Harmony Rec. is a community of friends and artists, sharing the same spirit. Their beautiful vinyl sleeves are usually hand-painted by the same artist, bringing abstraction and mystery to their releases.
Label: Bandcamp
Sanjib - Jungle Astronaut [Annulled Music]
Artwork: A I T
Annulled Music is an ambient, deep & dub-techno label that celebrates the strong connection between music and nature, based in Norway. This beautiful, delicate artwork evokes a "lost planet" in the simplest and slightly abstracted way. 
Label: Soundcloud
Various Artists - Synergy [Aedi Records]
Artwork: Kairogen
Aedi Records is a democratic record label managed collectively by over 200 electronic music producers. It was assembled in 2020 by Hypnus Records' founder Michel Iseneld. Picking up the abstract shapes representative of Hypnus, Aedi has brought more light, colour and composition to the album sleeves released this year. 
Label: Bandcamp
Daniel[i] - Conularii [Huinali Recordings]
Artwork: Off T (Javier Marimon)
Huinali Recordings is mainly a dub techno and dub ambient sub-label of Oslated (South Korea). All label covers are designed by yet another talented multi-discinplinary artist Off T (aka well known ambient music producer Javier Marimon). They are simple, but the lines are fun, abstract and unique.
Label: Soundcloud
Point C - Various [On Board music]
Artwork: Natacha Mankowski
On Board Music is a label based in Berlin since 2015. With all recent covers designed by the same painter, we are huge fans of these unique album sleeves. Geometric, architectural but with a touch of abstraction and painterly freedom with the colour drips, these outstanding visuals convey the essence of the German label based in the industrial yet artistic city of Berlin.
Label: Soundcloud
Daniel[i] & Olorun - WHS02 [Whispering Signals]
Artwork: Clément Davout
Whispering Signals is Daniel Danieli's own imprint, based in Aachen, Germany. This artwork was designed by Clément Davout (aka Adhémar, painter and designer for Oslated). Wonderfully "old-school" with the xerox-ish style, bringing in simple design elements and echoes of nature (is that a tree-trunk?), you recognise the talent of an artist/designer able to visually represent the essence of a music label.
Label: Soundcloud
VC-118A - Spiritual Machines [Delsin Records]
Artwork: Samuel van Dijk
Delsin Records was founded by Marsel van der Wielen in 1996 in Amsterdam, Netherlands. Often following a geometric and retro style, this particular artwork really takes it back with both a 1970's colour palette, and a composition reminiscent of the Dutch painter Mondrian. 
Label: Soundcloud
Alma - Greg Naïro [Oleeva Records]
Artwork: Shannon Garman & Katie Holloway
Oleeva Records (Croatia) releases « thoughtfully curated music and art inspired by nature ». This particular artwork is delicate in its lines and watercolour blue. It's abstract yet simple design leaves much to the imagination, bringing to mind cartography and astrology.
Label: Soundcloud
Various Artists - Charity Compilation II [From A Lost Place]
Artwork: Zach Chili
Colombia based label From A Lost Place was founded by William Salazar (aka Launaea) in 2018. 22 artists from different countries and a wide spectrum of genres from Ambient, Drum & Bass to Deep techno participated in this second opus of the Charity Compilation project. Its intriguing visual recalls of Native Columbian figures and patterns, evoking Latin American tribal art and indigenous artefacts.
Label: Bandcamp
IVE - Nueoiwo [Rambadu]
Artwork: Camille de Bruin & Paul Roeleveld
"IVE" is a collaboration between a Local sorcerer and Rambadu (Rotterdam, NL). During isolation they researched ways to escape reality by traveling inward and explored the connections between our audible and visual perception. Each EP cover is hand-crafted by Rambadu himself, composing of a stamped pattern and collaged photograph. It's so simple yet so effective, and adds to the appeal of owning a physical vinyl, this is truly a unique and passionately made piece of art.
Label: Bandcamp
Aexion - Sun Genam [So Ha So]
Artwork: Isabel Cavenecia & Sjoerd De Ridder
So Ha So (Something Happening Somewhere) is a Dutch label founded by Nuno Dos Santos, DJ and producer based in Utrecht, NL. The label's aesthetic has been very varied in terms of visuals, but this artwork's psychedelic style offers a unique and slightly retro kaleidoscopic presentation to this release.
Label: Soundcloud
Various Artists - Textures 3 [Space Textures]
Artwork: Nibera
Glasgow based record label delivering deep and atmospheric techno in digital and vinyl mediums. With a monolith worthy of 2000 Space Odyssey, this cosmic design's soft warm palette and beautiful yet dangerous mountains speaks to the world of deep techno. Hypnotic, nature-inspired, other-wordly, it ticks all the boxes.
Label: Soundcloud
Powel - Rad [Everything Will Be OK]
Artwork: Phe Johnson
British label Everything Will Be Ok « simply want to help soundtrack the life you lead today, with great music, no matter what type or where from ». While not fully in the genre, Haider Uppal & Timo Chinala Dub Mix was of high quality. Their colourful visuals produced by illustrator Phe Johnson bring a bit of lightness and fun. 
Label: Bandcamp
By Pamina Fayt-Grenat & Daisy de Montjoye
Thank you for your support this year! 2021 has been an eventful year despite its restrictions on events. It has given us a chance to grow our label, and we have some great releases to come. We also have some very exciting plans for 2022, so stay tuned by following us on Facebook, Instagram, Soundcloud, or subscribing to our newsletter.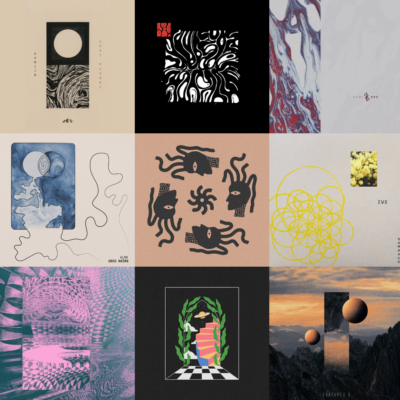 VISUAL • Graphic design plays such an important part in defining a label's visual identity....